Laser measurement and control equipment
Ref.: C316043
MAXWELL 3 - Infrared thermometer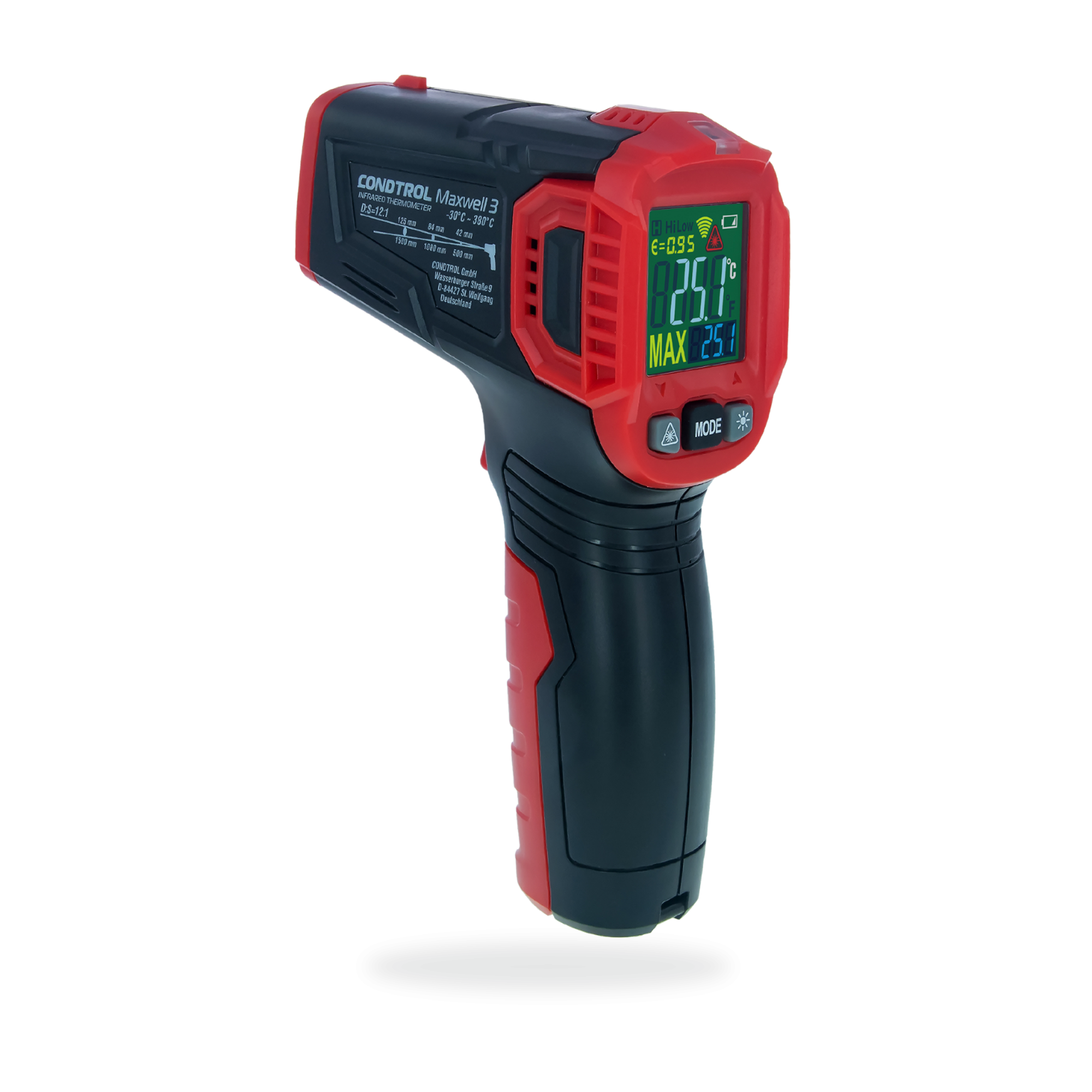 Infrared thermometer
Features
Infrared thermometer designed to measure temperature without contact.
Laser pointer for greater aiming accuracy.
Instantaneous and continuous temperature measurement.
Maximum temperature reading display.
Option to program a reference temperature and display on the screen if the value measured is above or below the set temperature.
Object emissivity value display.
Temperature measurement units in Celsius and Fahrenheit.
LED colour display.
Charge level indicator.
Automatic sleep mode.
Comes with
Batteries, user manual.
Technical characteristics of MAXWELL 3 - Infrared thermometer
Laser Feature

630-670 nm, inf. 1 mW, class II

Measuring range of object temperature

-30 °C… +380 °C

Surface Temperature Measurement Accuracy Feature

-30 °C… 0 °C : ± 3 °C
0 °C… +380 °C : ± 1,5% soit ± 2 °C

Emissivity Feature

0,1... 1,0 réglable

Optical Resolution Feature

12:1

Power Supply Feature

2 x 1,5 V LR03/AAA batteries

Operating Temperature Feature

0 °C… +40 °C

Storage Temperature Feature

-10 °C… +60 °C

Dimensions Feature

148 x 102 x 46 mm

Weight Feature

130 g

Ref. Feature

C316043

EAN Code Feature

4620752695772

Warranty Feature

2+1 years
CONTACT
If you have any questions about your order, please contact us via our contact form.
Contact form
Telephone support and advice on product use
For questions concerning the use of our products or the repair and spare parts service.
AFTER-SALES SERVICE
Fast and accurate calibrations and repairs
2+1 WARRANTY

By registering your product
within 30 days of purchase