Laser measurement and control equipment
Ref.: C317022
IR-CAM 3 - Thermal imager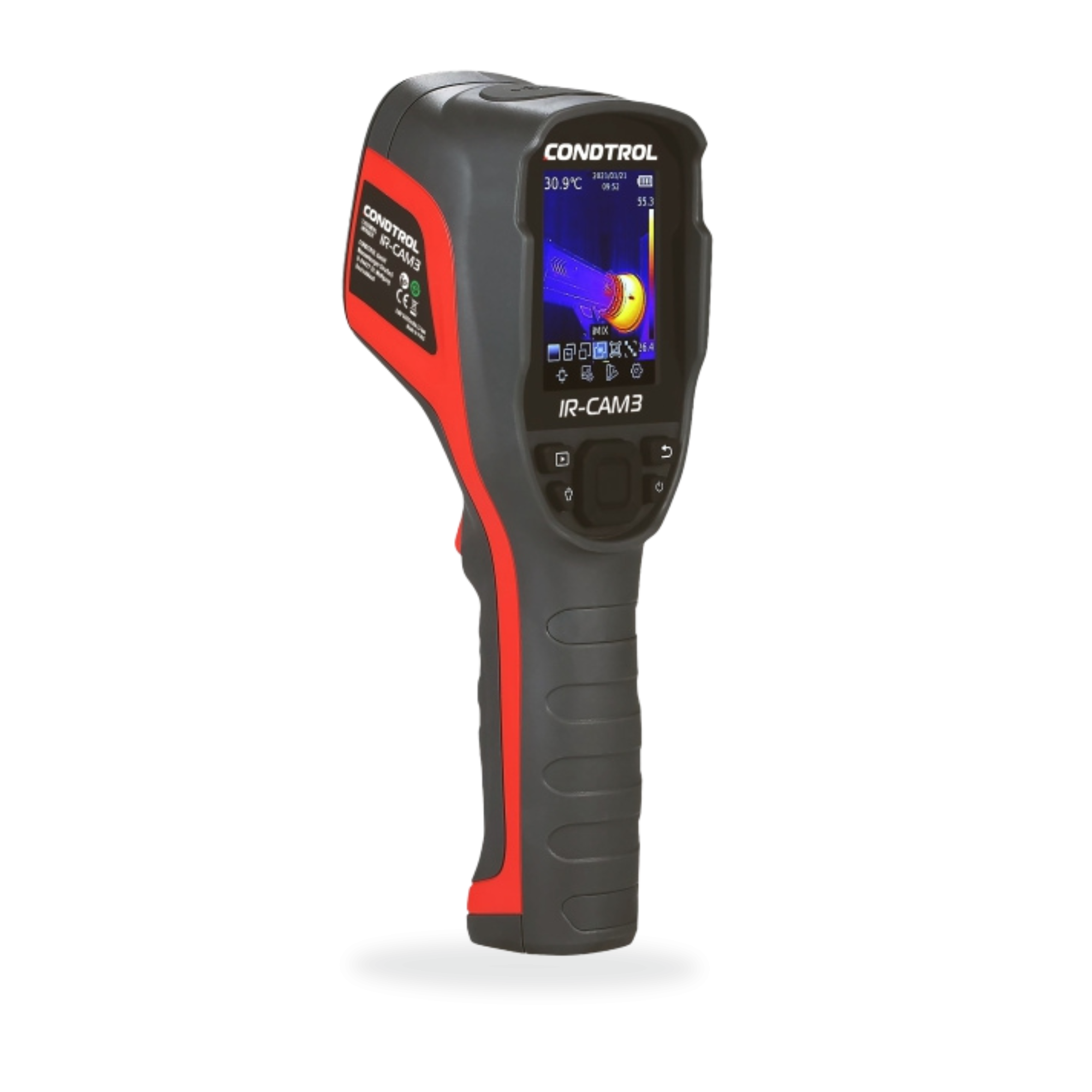 Thermal imager
Features
High resolution infrared thermal display.
Minimum and maximum temperature display of the object under examination.
Hot/cold point display function.
Object emissivity value display.
Highest and lowest temperature alarm.
Date and time display.
Image storage on 16 GB SD micro card provided with data transfer to PC for subsequent reporting.
4 image modes: infrared image, real image, fusion of infrared and real images and image-in-image.
7 colour palettes.
7 language menu.
Temperature measurement units in Celsius, Fahrenheit and Kelvin.
2,8 inch, high resolution, wide angle colour display.
Charge level indicator.
Impact resistant casing.
Comes with
16 GB SD memory card, Li-ion battery, charging cable, user manual.
Technical characteristics of IR-CAM 3 - Thermal imager
Autonomy Feature

11 h

Ingress Protection Feature

IP54

Measuring range of object temperature

-20 °C… +550 °C

Surface Temperature Measurement Accuracy Feature

-20 °C… 100 °C : ± 2 °C
100 °C… 550 °C : ± 2%

Emissivity Feature

0,1... 1,0 réglable

Optical Resolution Feature

30:1

Thermal Sensitivity Feature

0,04 °C

Infrared Image Resolution Feature

256 x 192 (49152) pixels

Visible Image Resolution Feature

3 mega pixels

Field of vision/Min. focal distance

56° x 42°/3,2 mm

Power Supply Feature

3,6 V 5000 mAh Li-ion battery

Operating Temperature Feature

-10 °C… +50 °C

Storage Temperature Feature

-20 °C… +60 °C

Dimensions Feature

230 x 72 x 95 mm

Weight Feature

520 g

Ref. Feature

C317022

EAN Code Feature

4620752695819

Warranty Feature

2+1 years
CONTACT
If you have any questions about your order, please contact us via our contact form.
Contact form
Telephone support and advice on product use
For questions concerning the use of our products or the repair and spare parts service.
AFTER-SALES SERVICE
Fast and accurate calibrations and repairs
2+1 WARRANTY

By registering your product
within 30 days of purchase