Réf. : C37051
PAINT PRO - Coating thickness meter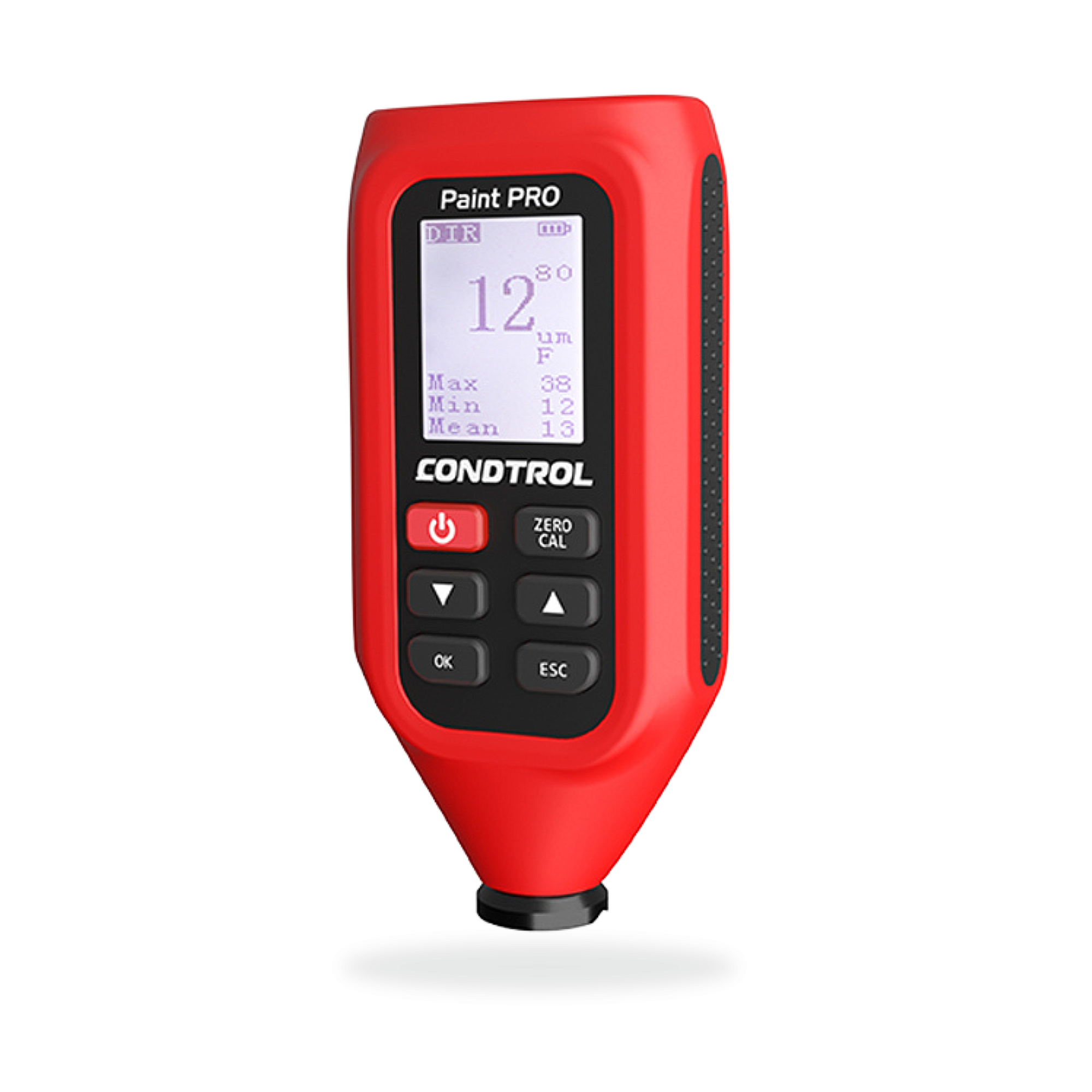 Coating thickness meter
Features
3 mode sensor: automatic, magnetic (ferrous metals) and vortex (non-ferrous metals).
Single or continuous measurement modes for taking measurements without removing the device from the surface, with dynamic screen display.
Direct maximum, minimum and average value readings display.
2 Units of measurement: μm and mm, with automatic switchover based on the result.
Audio signal for measurements outside the selected range.
Memory for 320 readings (80 per group) and on-screen display.
USB interface for connection to PC and data analysis program.
Backlit LCD screen.
Charge level indicator.
Comes with
2 metal plates (aluminium and iron), 0.05 mm/0.1 mm/0.25 mm/0.5 mm/1 mm thickness reference samples, strap, micro USB cable, CD-R, storage case, batteries, user manual.
Caractéristiques techniques de PAINT PRO - Coating thickness meter
Accuracy Feature

± 3%

Ingress Protection Feature

IP54

Plage de mesure

0…1500 µm

Power Supply Feature

2 x 1,5 V LR03/AAA batteries

Operating Temperature Feature

0 °C… +45 °C

Storage Temperature Feature

-10 °C… +50 °C

Dimensions Feature

112 x 51 x 28 mm

Weight Feature

80 g

Ref. Feature

C37051

EAN Code Feature

4620752694874

Warranty Feature

2+1 years
CONTACT
Pour toute question concernant votre commande, veuillez nous contacter via notre formulaire de contact.
Formulaire de contact
Assistance téléphonique et conseils sur l'utilisation des produits
Pour les questions concernant l'utilisation de nos produits ou le service de réparation et de pièces détachées.
SAV
Réparations rapides et soignées
GARANTIE 2+1

En enregistrant votre produit
sous 30 jours suivant son achat
sur une sélection d'articles